(
1944 Bridge Hunter
,
1984+1990 Bridge Hunter
,
John A. Weeks III
,
3D Satellite
)
The official name is Jefferson Barracks Bridge. The original truss bridge "was completed in 1944 as a war-time measure to allow the Illinois side better access to the western part of the St. Louis area." [Bridge Hunter comment]
This allowed easier access to the Jefferson Barracks. A 1702 acre parcel of land was established in 1826 as the first permanent military base west of the Mississippi River to protect pioneers of the Louisiana Purchase from the threats of Indians. It was
the major training base for the Army Of The West from 1826 through the Civil War.
A national cemetery was also created. On June 30, 1946, the army base was decommissioned.Today it is used by the National Guard and Army Reserve, an expansion of the national cemetery, evidently a VA hospital, and
a park and museum
. [
History
,
cem
, John A. Weeks III]
May 1995 flood, Public Domain from Flickr
A new bridge was built next to the old one and then the old one was replaced by a second bridge.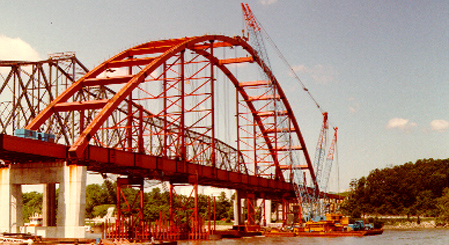 AB, search for "jefferson barracks"
JEFFERSON BARRACKS BRIDGE
Completion Date: 9/30/1983
This was a superstructure fabrication and erection contract for a 4,000' Mississippi River crossing, including a 910' box chord tied arch main span and steel plate girder approaches. This tied arch is one of the largest of its type in the USA.
The old bridge was a toll bridge until the bonds were retired in 1959.
1945 photo from Department of Transportation Collection at the Mo State Archives